To Join The SCCC Family,
Simply Attend A Monthly Meeting, 4th Tuesday of every
month (except December) @7pm at the Rawlings Public Library
100 E. Abriendo Ave.
Or, Join Us At Any Planned Event
Click For NCCC Membership Application
Click for SCCC Membership Application
Contact One Of Our Officers For More Information.
For further information on SCCC Please Read,
BYLAWS of the SOUTHERN COLORADO CORVETTE CLUB ~
Last Amended 06/24/14
ARTICLE I
SECTION 1 - NAME
The name of the club shall be Southern Colorado Corvette Club, Inc., hereinafter called SCCC/SC3.
SECTION 2 - Emblem
The Official Emblem of the Southern Colorado Corvette Club shall be: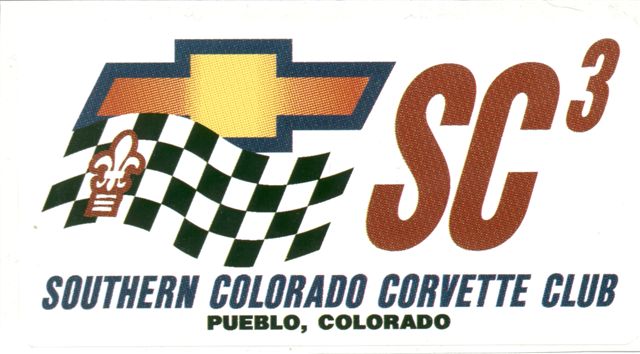 ARTICLE II

SECTION 1 - PURPOSE
The general purposes of the club shall be to encourage planned trips, events and social activities for members of the SCCC/SC3, to provide and regulate events and exhibitions for Corvette owners and to encourage careful and skillful driving on public highways. Due to the liability involved no SCCC/SC3 monies will be used for the purchase of alcohol.
SECTION 2 - MEMBERS
Membership in the club shall be restricted to owners, spouses of owners, significant others of owners, or persons who have at their disposal a Corvette.
SECTION 3 - CLASSES OF MEMBERSHIP
A. Primary - Any person meeting the provisions in Section 2, above, and having paid such annual dues and fees as required.
B. Honorary - Former SCCC/SC3 member who no longer owns a Corvette and has commended himself/herself to club esteem, and is elected by majority vote of the members present at the annual meeting.
C. Enthusiast – Available to anyone who is a Corvette enthusiast. Enthusiast members need not comply with the Corvette ownership requirements set forth in "Section 2 – Members".
SECTION 4 - MONETARY FEES
A. Primary - Single: $60.00. Couple: $80.00. These membership fees include annual dues for membership in the National Council of Corvette Clubs (NCCC) of $35.00 for year one, $25.00 thereafter, and spouse's dues of $10.00 annually, plus NCCC Regional dues of $5.00 annually for every member.
B. Honorary - No Dues. NCCC Membership for Honorary Members is not paid by SCCC/SC3.
C. Enthusiast - Single: $60.00. Couple: $80.00. These membership fees include annual dues for membership in the National Council of Corvette Clubs (NCCC) of $35.00 for year one, $25.00 thereafter, and spouse's dues of $10.00 annually, plus NCCC Regional dues of $5.00 annually for every member.
D. Event Fees - All club events may charge participants a fee to be collected at, or before the time of the event by the event chairman. Said fees will be determined at a general club meeting prior to the event. Determination of how the funds are to be handled must be decided at a general club meeting prior to the event.

SECTION 5 - PAYMENT OF DUES
A. SCCC/SC3 dues for continuing members are to be paid to the Treasurer no later than October 1st and are applicable for the upcoming fiscal year. New members' dues shall be payable at the time of joining as determined by the SCCC/SC3 Treasurer on a prorated basis, but will include the full NCCC dues then payable.
B. Any member who wishes to resign will not receive unused portion of dues upon request and withdrawal of membership.
C. If dues are paid spouse or significant others have all voting rights.
D. Dues paid after October 1st will be subject to a $10 late fee.
SECTION 6 - PRIVILEGES
Primary members are entitled to all club privileges. Enthusiast and Honorary members are entitled to all club privileges, except they shall not have the right to vote or hold office, nor compete for NCCC national or regional points.
SECTION 7 - EXPULSION
Membership will automatically lapse for non-payment of dues. Any member may be expelled for infraction of the Club rules, or such other causes as may be determined by the majority of the officers as being in the best interests of the Club. However, before such action is taken, the member shall have the opportunity of submitting in writing or in person his/her position on any charge of which he/she shall be notified.
SECTION 8 - RESIGNATION
Any member may resign by directing a letter of resignation to any officer. The resignation shall be effective on receipt, provided all indebtedness the SCCC/SC3 is paid.
ARTICLE III
SECTION 1 - ANNUAL MEETING
The Annual Meeting shall be held in October at the regular business meeting for the purpose of selecting nominees for the offices. Election of officers shall be held at the next regular business meeting and or event.
SECTION 2 - MONTHLY MEETING
Regular monthly meetings shall be held on the fourth Tuesday of each month.
SECTION 3 - SPECIAL MEETING
In addition to any provision of the bylaws, special meetings of the members may be called by the President or by a majority of the officers.
SECTION 4 - NOTICE OF MEETINGS
Notice of meetings, stating the place, day, hour and purpose of any meeting of the members, including special meetings, shall be given by the Secretary and sent not less than seven (7) days or more than twelve (12) days before such meetings to each member.
SECTION 5 - QUORUM
Those members present at a scheduled Business Meeting shall constitute a quorum for voting purposes.
SECTION 6 -VOTING
A. All actions shall be approved or defeated by majority vote of those present, except election of officers and amendment of the Bylaws which must be approved by two-thirds of those present. Except as designated in SECTION 7 below, voting by proxy or absentee ballot shall not be allowed unless the majority of the Board of Directors approves such voting prior to the vote and with sufficient notice to all members.
B. Each Primary member shall have one vote. Elections of officers will be by secret ballot. All other actions will be "show of hand" vote unless THE SCCC/SC3 President requests a roll call or secret ballot. General business of the SCCC/SC3 shall be decided by majority voice or show of hand vote of members present.
SECTION 7 - ABSENTEE BALLOTING
Absentee balloting for the election of officers and changes in the Bylaws is permitted by written vote mailed to the SCCC/SC3 President or designated agent(s).
ARTICLE IV
SECTION 1 - ELECTED OFFICERS
A. Elected officers shall consist of President, Vice President, Secretary, Treasurer and Newsletter Publisher.
B. The elected officers shall be elected for one (1) year term.
C. A web master will be appointed by the Board of Directors but shall not be an officer of the club.
D. The annual election of new officers shall also include election of an NCCC Governor to serve for the coming year. The Governor shall have voice on the board, but shall not be an officer of the club nor have a vote on the board.
SECTION 2- BOARD OF DIRECTORS
Board of Directors shall consist of all above mentioned officers.
SECTION 3 - PAID OFFICERS
No officers shall be compensated or paid for their services.

SECTION 4 - SIGNATURE OF OFFICERS
The Treasurer shall always be the primary signatory on the club's account(s). Only for the sake of safety of club's funds, in the event of loss or inability of the Treasurer, one other officer, chosen by the Elected Officers, shall be a second signatory on such account(s). At all times, there shall be two signatories on all club's accounts.
SECTION 5 – CLUB EQUIPMENT
The Secretary shall maintain a current inventory of all club equipment, i.e. sound equipment, tents, banners, etc., including current location of all equipment.
ARTICLE V
SECTION 1 - DUTIES OF OFFICERS
A. President - The President shall preside at all meetings of the members and Board of Directors and shall perform the duties pertaining to this office. He/She may call special meetings of members under the provisions of Article III. The President shall insure that a current, accurate and updated list of member's information shall be kept and be available to all officers and webmaster. He/She shall be the Chief Executive of the club.
B. Vice President - In the absence of the President or in the case of death, resignation or inability to act, the duties usually pertaining to that office shall be performed by the Vice President. He/She shall also serve as Chairman of the Activities Committee and shall appoint two other members to that committee.
C. Secretary - The Secretary shall attend all meetings of the members and directors and shall record all minutes and votes. He/She shall give all notices of meetings of the members required by bylaws or by the majority vote of the Board of Directors. He/She shall have custody of the club's records. In the absence of the Secretary from any of the said meetings, a secretary pro tempore shall be chosen by the presiding officer. The Secretary shall insure the afore-mentioned inventory of Club equipment (IV.5.) will be available to other officers, especially for the purpose of the annual review of the books mentioned below (V., D.).
D. Treasurer - The Treasurer's duties are subject to such conditions and restrictions as may be made by the Board of Directors. He/She shall receive all monies and have custody of all monies of the club and deposit said monies in the club account. He/She shall make all payments of club debts upon approval of the Board of Directors. The Treasurer shall give a report on the financial status of the club at the annual meeting and monthly meetings, and if so requested, at any other meeting of the Board of Directors. The Treasurer shall keep orderly books representing the historical and current financial status of the club. Further, the Treasurer should insure an annual review of the books and inventory list be accomplished by a non-related member of the club. No obligation, debt or other liability shall be incurred by the Treasurer without the specific approval of the Board of Directors.
E. Newsletter Publisher - The publisher of the club's newsletter shall be elected concurrently and serve the same term with other officers. It is the publisher's responsibility to ensure that a monthly newsletter containing recently completed and upcoming club activities, informational articles about club members and other stories or reports on Corvette or club-related subjects is sent via email if possible, or hard copies mailed to members in a timely manner. Publisher may enlist and solicit help with content from any source, whether inside the club or not and clearly credit any other sources, especially when quoting directly.

F. Appointed Webmaster - The webmaster shall bear all responsibility for maintaining and improving the club's web site and insure periodical fees are paid promptly so as to maintain availability to the general public. Design and functions of the web site shall be approved by the club officers at the same time said officers review, update and approve the club bylaws. Expected functions include links to businesses/vendors who do business with and support the club, a calendar of upcoming events as far forward as practical, contact information for club officers, the latest club newsletter, information and pictures if possible of recent past events, a brief statement of our history and purpose and encouraging information on joining the club.
ARTICLE VI
SECTION 1 - APPOINTMENT OF COMMITTEES
The President shall appoint such committees as he/she finds desirable from time to time and shall outline the duties and responsibilities of such committees. All reports or action taken by a committee must be voted by a majority of the entire committee. In addition to the authority granted above, certain standing committees, as set forth shall be appointed annually by the Vice President.
SECTION 2 - ACTIVITIES
The activities of the SCCC/SC3 shall consist of planned trips, social gatherings, and events for Primary members, Enthusiast/Honorary members, and guests as coordinated by the Activities Committee and other members appointed from time to time by them.
ARTICLE VII
SECTION 1 - FISCAL YEAR
The fiscal year shall be from January 1 to December 31.
ARTICLE VIII
SECTION 1 - PERSONAL LIABILITY
All persons or corporations extending credit to, contracting with, or having any claim against the club or the Board of Directors, shall look only to the funds and property of the club for payment of any such contract or claim or for payment of any debt, damage, judgment, or decree, or any other money that may otherwise become due or payable to them. In no event shall any officer or member of the club assume any personal liability arising from any club activities or events.
ARTICLE IX
SECTION 1 - NATIONAL COUNCIL OF CORVETTE CLUBS (NCCC) STANDING
It is the club's intent to maintain a status of Good Standing with the NCCC by having all Primary and Enthusiast club members be in good standing with the NCCC. The reasons for club membership in NCCC are many, but prime among them is the $1,000,000 general liability insurance policy covering participating members and the club for all scheduled activities and events.

SECTION 2 - ELECTION AND DUTIES OF NCCC GOVERNOR
The club will include the position of NCCC Governor to annually elected positions. Duties of the Governor shall be to represent the club for all regional NCCC business; attend all general and business regional NCCC meetings when required and any national meetings with prior club approval; submit a proxy to the appropriate person when unable to attend any NCCC meetings; report to the club and officers all information gathered at NCCC meetings; process and maintain the club and individual memberships with NCCC as well as meeting all reporting requirements, and submit regular articles to the Newsletter Publisher. Travel expenses to and from meetings may be submitted to the Treasurer for reimbursement. It is intended that the Governor shall represent the club's interests and intents by seeking input and guidance from the club at regular meeting and events and from the officers prior to any NCCC meetings. The Governor shall not be an officer of the club.
SECTION 3 - PAYMENT OF NCCC DUES BY MEMBERS
As all new members are required to join NCCC and all existing NCCC members are required to maintain their NCCC memberships, dues will be paid by SCCC/SC3 when annual dues are paid by the members, which are due on October 1st of every year.
ARTICLE X
SECTION 1 - AMENDMENT TO THE BYLAWS
A. The Board of Directors of the SCCC/SC3, or any active members in good standing, by written proposals submitted to the Secretary, may propose an amendment to the Bylaws. Upon such proposal being made, a copy thereof shall be included in the notice of the next meeting of the members. If two-thirds (2/3) of the members in attendance vote in favor of the proposal at the meeting, the proposed amendment shall thereby be approved and adopted. See ARTICLE III, Section 6 for those eligible to vote.
B. Bylaws must be reviewed and, if necessary, updated before the end of each physical year.

ARTICLE XI
SECTION 1 - DISSOLUTION
A. If for any reason, this Corporation is disbanded or dissolved, any property held in the corporate name shall be liquidated and turned into cash in accordance with the decision made by the then members. After all Corporation liabilities have been paid, the remaining cash shall be used for a final SCCC/SC3 event, to which present and past members could be invited.
B. Dissolution of the Corporation shall be made in accordance with all applicable Federal and State of Colorado laws.